Improving Your Hair Choices With SVT Hair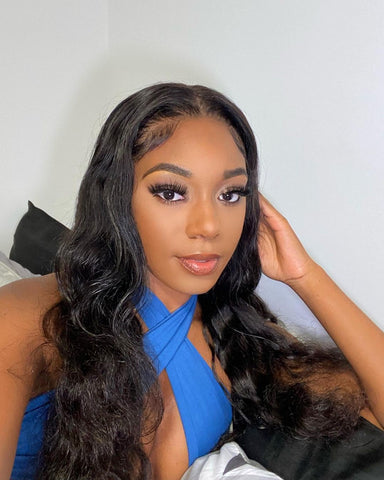 I think you can agree with me that beauty products especially for hair are no joke in the fashion industry, there is always a problem of what brand to use and its suspicious aftermath. Wigs are a great way to switch up your style, protect your natural hair from heat damage or hide any thinning spots on your scalp.
Natural hair wigs are available in different weaves types and they can be styled to fit any occasion or fashion event. This brand of human hair curves out the face's unique shape, cuts out good maintenance in both curls and length, and has of course by its good quality, a trend in hair fashion. For best quality wigs with good frontier, you can do no better than our class and quality wigs.
An advantage to the hair wig is its variety, giving you the option of using good hair while it is still definitely your style. That basically screams no to limited editions!
As seen, Natural hair wigs have a reputation for being excellently versatile. You can rock your way to fashion without much stress with your wigs!!
In considering human hair, most things you should put in consideration is if you will use human hair frequently, how realistic it looks if it blends with the event, your scalp, and skin tone. Our brand of hair wigs can help you have a good night out and match whatever event you want to show up looking elegant at. I can not emphasize this enough.
Human hair might be more expensive and out of budget, however, you can easily curl, wash and reuse unlike the synthetic fibers type of hair. Human hair can last years depending on the quality and frequency of use and of course, the product. This is why our hair products have been recommended as the right brand to give the exact look you aim for and serve its purpose.
Human hair lace fronts look real and blend into your natural hairline as they should.
The best part? 
Being new to wigs does not have to make the first try uncomfortable and time-draining by applying lace fronts.
SVT Human hair wigs with bangs and curly wigs look more natural and lessen your worry about perfecting a lace front or hairlines to look good. SVT Human hair has a range of shades, pre-plucked baby hairs, and of course, minimal shedding.
As a brand, lace wigs are also of different kinds. There are  Bob Lace Front Hair Wigs, Curly Lace Front, Kinky Curly Hair Wigs, Black Loose Water Wave Synthetic Lace Front Wigs High-Temperature Fiber For Women Pre Plucked With Natural Hairline, Long Straight Black Wigs Front Lace, Glueless Lace Front Human Hair, Long Straight Lace Front Wig With Baby Hair, Short Lace Front Hair Wigs Bob Wig With Pre Plucked Hairline Lace Wig, Brazilian Less Lace Front Full Wig Bob Wave, Deep Wave Transparent Lace Front Wig,  Brazilian Water Wave, Korean Style Full Lace Human Short Hair Wigs Women Front Wig Curl Hair and many more others.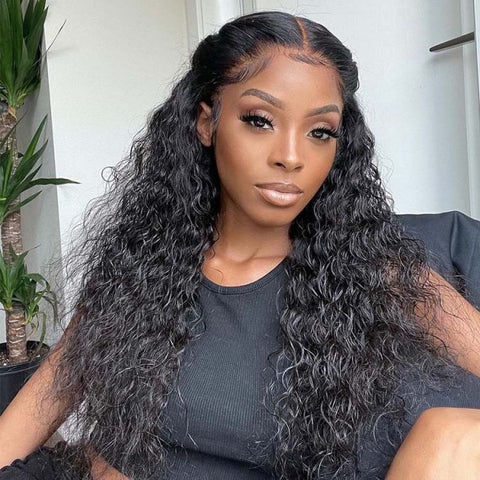 What's the real story?
Lace wigs are typically human-hair-made wigs with a closure that is like your natural scalp. They are mostly sewn on the unit's crown that can only be parted one or two ways in the front to which tracks are later sewn on the back of the unit from ear to ear of the wig cap. One of the reasons lace wigs are so fun to wear is the variety of styling possibilities.
How can you use it?
A tip on a lace wig is: If your hairline is not as thick as you want, you can simply place your wigs half an inch behind your hairline to give a more natural look.
You should also know that Lace wigs come in different variations. There are lace caps, full lace, lace 360, and front lace wigs that can be a full-lace wig type. A full lace wig is a ventilated unit that is flexible and allows you to part your hair in any direction and style. With a full lace wig, there are unlimited styling options.  
Full lace wigs are installed by first braiding your natural hair in cornrows and are usually in the straight back. You have to apply a bit of adhesive glue around your hair perimeter while being careful to not apply the glue to your own hair. You then put on the wig and place it by bonding it to the glue and afterward securing and tightening with wig clips.
The benefit of a lace wig is giving the appearance of a natural hairline.
Also, it is highly flexible because the hairline appears like your own. You can wear a lace wig in any fashion that covers the rear nape for an elegant appearance.
 For Bob wigs, here's the deal.
Bob wigs said to be out of style, come back full force into the hair fashion though unpredicted.
Modern bob wigs are available in every style of bob you can think of, fitting into whatever event you want to use it for. Its style ranges from the classic bob, timeless bob cut to shaggy bob haircuts and other creatives you want to style it to.
Bob wigs are officially one of the most popular hairstyle requests gotten in recent times.
Bob wigs are not limited, it is for the young and old. For any face shape you have, you can guarantee that there will be a bob style that will suit you to perfection.
Bob wigs may be shorter than usual wigs, however, it does not mean you have to be stuck and settled on a style. There are a variety of styles to Bob wigs, long wavy styles, short pixie bobs,  lob styles with fringes, and others,  you will surely find a wig that fits and compliments you and your style.
 When styling for Bob wigs, you should take into consideration the shape of your face. Whether it be an oval face, round face, heart-shaped face, or if you are interested in Fringe or no fringe?
All these matters so the beauty of the bob wig can be complimented easily.
SVT Brazilian Hair Weave Bundles With Lace Closure Loose Wave Bundles With Closure Remy Human Hair 3 Bundles With Closure and is about
16 18 20 Inch in size.
 The Human Hair Material is 100% Brazilian virgin unprocessed human hair in which the hair color is a natural color that is not bleached and has an unprocessed colored guarantee.
SVT Brazilian virgin hair textures are Silky Straight, Body Wave, Deep Wave, and Loose Wave. Also, the natural color can be colored and bleached.
Brazilian virgin hair is extremely soft, thick, and long-lasting. The human hair quality is very high, so you can sew in fewer Brazilian hair bundles to look more natural and full than it already is.
Popular Hairstyles With Brazilian Hair Weave
Brazilian body wave hair, Brazilian curly weave hair, Brazilian kinky curly weave hair, Brazilian Straight hair, and other trending hairstyles.
Why Choose Brazilian Human Hair Weave?
Brazilian hair is better than most human hair in wet conditions, aiding reduction in hair curls.
 Brazilian virgin hair is completely natural and unprocessed which means it has no chemical treatment. Brazilian Human Hair is 100% virgin hair. Unprocessed human hair.
It has no hair shedding, no hair tangles, and can be straightened, curled, bleached, and styled into your preference. Also, color the hair according to your preference.
---